Cidara Therapeutics, Inc. and Mundipharma have announced positive topline data
from the pivotal ReSTORE Phase 3 clinical trial evaluating the efficacy and safety of its once weekly antifungal candidate rezafungin as a potential first-line treatment for candidemia and invasive candidiasis.
Rezafungin met the primary endpoint for the U.S. Food and Drug Administration (FDA) New
Drug Application (NDA) submission of all-cause mortality at Day 30, and also met the primary endpoint for the European Medicines Agency (EMA) Marketing Authorization Application (MAA) submission of global cure at Day 14. Both results demonstrated statistical non-inferiority of rezafungin dosed once-weekly, versus caspofungin dosed once-daily, the current standard of care. Rezafungin was generally well tolerated and had a similar safety profile to caspofungin.
"The results of the ReSTORE trial reinforce our belief that rezafungin has the potential to have a significant impact on the care of patients battling difficult-to-treat and often deadly invasive Candida infections," said Jeffrey Stein, Ph.D., president and chief executive officer of Cidara.
"We are pleased by the overall efficacy and safety results including the data on early efficacy outcomes and ICU stay. We would like to thank all of the investigators and their site staff for their relentless hard work and dedication, as well as the patients who made it possible for us to generate these data. With the results of both the STRIVE and ReSTORE trials now in hand, which together form our registration package, we intend to file our NDA with the FDA and other regulators outside the U.S., in mid-2022."
George Thompson, M.D., principal investigator in the ReSTORE trial and professor of clinical
medicine at the University of California, Davis, School of Medicine, added: "Those of us treating deadly fungal infections have been anticipating these data and if rezafungin is approved it could be an important new option for the care of our patients. I'm excited that the data from the ReSTORE trial support a potential place for once-weekly rezafungin in the treatment of critically ill patients both inside and outside the hospital."
Cidara has partnered with Mundipharma who has commercial rights to rezafungin outside the U.S. and Japan.
Brian Sheehan, Ph.D., chief scientific officer at Mundipharma, commented: "We are thrilled to announce these data that support the potential use of once-weekly rezafungin which, if
approved, will be the first new treatment option for patients with candidemia and/or invasive candidiasis in over a decade."
ReSTORE (NCT03667690) is a global, randomized, double-blind, controlled Phase 3 study. It completed enrollment with 187 patients diagnosed with candidemia and/or invasive candidiasis in 132 clinical sites across 18 countries. Study sites in China are recruiting patients for submission of rezafungin to the Center for Drug Evaluation. ReSTORE evaluated one 400 milligram (mg) dose of rezafungin for the first week followed by 200 mg of rezafungin dosed once-weekly for up to four weeks in total. The treatment arm was compared to approved daily dosing of caspofungin in a 1:1 randomization.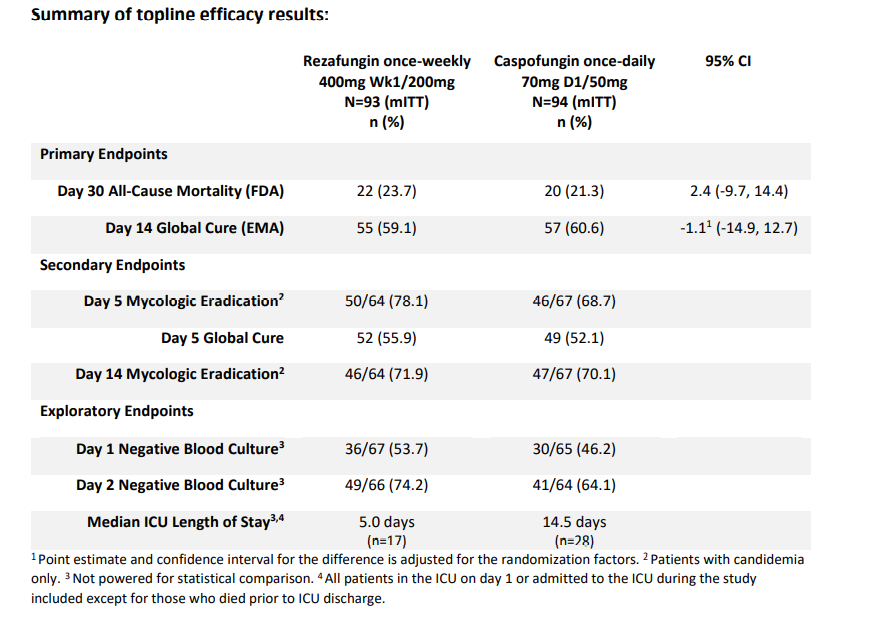 Overall rates of adverse events and serious adverse events were comparable in patients receiving rezafungin and caspofungin. Rates of adverse events leading to study drug discontinuation were also similar for rezafungin and caspofungin.